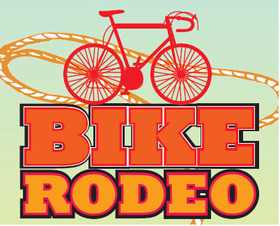 Bike Safety Rodeo
Wednesday October 12, 2016
1:30 pm
Our Walk/Bike-to-School PTA Committee, in collaboration with the community-based Davis Bicycles School Committee and the City of Davis Street Smart Program, is hosting our annual Bike Safety Rodeo at the back bike rack (on the blacktop near the MPR/lunch tables). Parents must complete and sign the attached Consent Form for their kids to participate, and turn it into the office or bring it to the event. Your child should have a signed consent form, helmet, and bike (in good working order) to participate. The Bike Safety Rodeo is designed for children who have the basic skills of riding a bike (e.g. knowing, at a minimum, how to stop and start properly and how to take one hand off the handle bars to signal). PARENT VOLUNTEERS NEEDED:  It takes a minimum of 12 volunteers to pull off this event.  If you are able to help out starting at 1:00pm, please email/text the Bike/Walk-to-School Committee Chair Michael Hansen at akasas.hansen@gmail.com or 734-846-2556.
2 adults for check-in/check-out station
3 adult helmet checkers
2 adult bike checkers
1 adult supervising the scan, signal and merge station
1 adult supervising the Figure 8 navigating station
1 adult supervising the stop, signal and turn station
1 adult supervising the traffic signs/rules of the road station
1 adult supervising the Mini SLOW race


---
International Walk/Bike-to-School Day is a global event in which school children in Davis will be joining kids from more than 40 countries around the world celebrating the benefits of walking and biking to school. Parents, students, teachers, and staff are invited to walk, bike or scoot to school on Wednesday, October 5th, 2016 and Wednesday, May 10th, 2017 and check in at the bike racks for stickers, to sign our school poster, and for other goodies to celebrate your good work for yourself, our community, and our environment!