Meet Our Amazing MME Teachers!
THE KINDER CREW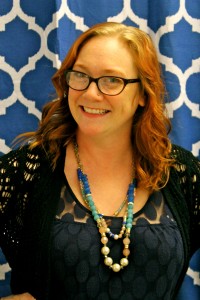 Mrs. Cooper- Transitional Kindergarten
Mrs. Cooper has been teaching for 5 years! This is her first year as a kinder teacher and before that she taught 2nd grade. She was born on April 7th in Arizona.  Her favorite colors are blues and greens, she likes dahlia and ranunculus flowers and her favorite season is Spring! Mrs. Cooper's favorite book is The Lion, The Witch and The Wardrobe and her favorite movies are The Princess Bride and Fight Club.  Her favorite authors are CS Lewis and JK Rowling.  She collects children's books that are out of print or in other languages. Mrs. Cooper enjoys listening to 90's alternative rock, reading, gardening with her family and traveling.  She has been to England, Scotland, India, Mexico and Canada!  Mrs. Cooper loves anything chocolate! Chocolate candy, chocolate mouse, mochas, you name it! But forget about white chocolate- no way! She's not a fan of seafood either. You might catch Mrs. Cooper shopping at Cost Plus World Market or the Avid Reader or enjoying a meal at Tower Café in Sacramento. You might be interested to know that she can play a bit of piano, is a pretty good singer and is also a mom of three! If there is anything else you'd like to know about her, just ask-she's super friendly and approachable!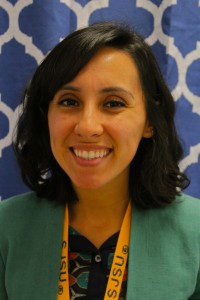 Maestra Ortega- TWBI Kindergarten PM
This is Maestra Ortega's first year teaching and we are happy to welcome her to MME! Maestra Ortega was born in Guanajuato, Mexico on December 8th.  She loves the color purple, hydrangea flowers and listening to country music.  Her favorite movie is Eat Pray Love and her favorite books are The Lorax and The Great Kapok Tree. Her favorite school supplies are scotch tape and water colors. Maestra Ortega likes to knit, read, buy things on Amazon, dine at BJ's restaurant and collect earrings! Her favorite foods are tacos, blackberry pie, seasalt dark chocolate and Jasmine green tea, but she doesn't like bananas!  She has traveled to 6 different Asian countries, México and several US states.  A little trivia about Maestra Ortega- she is a great problem solver, played the cello in elementary school and loves massages!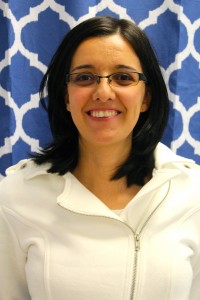 Maestra Diaz- TWBI Kindergarten AM
Maestra Diaz started her teaching career last year at MME! She was born on March 17th (St. Patrick's Day) in Chia, Colombia. She loves the color purple, roses and alstroemeria flowers, soccer, Latino music and Summer!  Maestra Diaz's favorite book is The Lorax by Dr. Seuss and her favorite movies are Back to the Future I/II/III.  She enjoys any type of Latin food, but doesn't like things too spicy. She loves plantains, guava, fruit tarts, smoothies and tea, but is allergic to dairy. Maestra Diaz enjoys a good shopping trip to Target, crocheting and traveling. She has traveled to many places throughout the US, Colombia, Peru, Brazil and will be taking a trip to Puerto Rico soon! Maestra Diaz facts: She enjoys drawing, painting, hearing the word "GRACIAS" and has a four-legged fur baby, an 8-year-old, orange cat named Lady.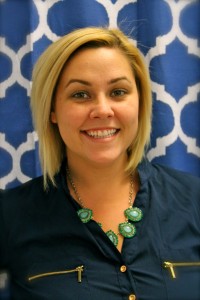 Ms. Zimmerman- Traditional Kindergarten
Ms. Zimmerman, best known on campus as Miss Z, is in her fourth year of teaching. This energetic, enthusiastic, extroverted Sagittarius was born on December 15, 1987 in Long Beach, CA.  Some of her favorites include the colors yellow and pink, the lily flower, otters and the Oakland A's!  She also loves the author Michael Pollan, the Harry Potter Series and the movie Butch Cassidy and the Sundance Kid.  Like her room partner, Mrs. Cooper, she loves anything chocolate! Ms. Z also enjoys all things cheese! Mac n' cheese, grilled cheese, nacho cheese… anything cheese! Her favorite drink is a vanilla latte. Ms. Z's favorite store is Rire Boutique on 5thStreet in Davis and favorite restaurant is Tank House BBQ in Sacramento. She also enjoys dancing, reading and playing chess.
THE FIRST GRADE GANG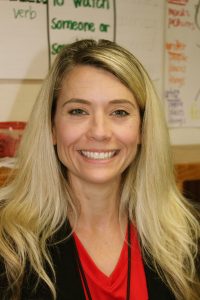 Mrs. Campbell- Traditional 1st Grade
 Mrs. Campbell is a seasoned teacher having taught for 17 years! This is her first year at MME, but her 5th year teaching first grade. She was born in San Jose, CA on September 17th. Mrs. Campbell's favorite color is yellow and she loves all types of flowers! She is also a fan of the Seattle Seahawks. Don't be surprised if you catch Mrs. Campbell at the Avid Reader, Tres Hermanas or Starbucks! She enjoys sweet treats like cupcakes, cookies, brownies, doughnuts and especially Reese's peanut butter cups. She likes Mexican food, but stays far away from seafood! Mrs. Campbell has traveled around North American and has been across the ocean to Europe and New Zealand! Did you know that Mrs. Campbell is also a mom?! She has a son who is 10 and a daughter who is 7.
Maestra Ruiz-  1st Grade TWBI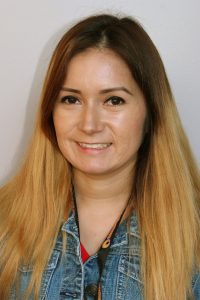 This is Maestra Ruiz's first year teaching at MME, but she is not new to teaching. Maestra Ruiz has been teaching for a total of 6 years. She previously worked in both Vallejo and San Juan School Districts where she taught 2nd and 4th grade.  She was born in Sinaloa, México on November 30, 1987. She moved to the United States when she was three years old. Her favorite school supplies are paper and markers, her favorite color is blue, her favorite animal is the tiger and her favorite sport is soccer. Maestra Ruiz relaxes by reading a good book such as Narnia or watching movies like Aladdin. Her favorite season is Autumn, her favorite flowers are roses and gerbera daisies and she enjoys listening to rock music like that from Mana! Her favorite food is tacos and she loves all candy and desserts. She also cherishes her coffee and coca cola! She is a great listener and likes dancing. Some fun Maestra Ruiz facts -she collects small stuffed animals, has three cats and one dog and has traveled to México, Costa Rica and Japan!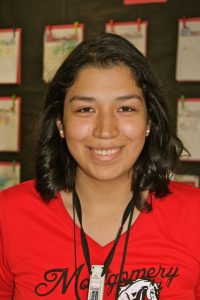 Maestra Valdez- 1st Grade TWBI
Maestra Valdez is new to MME and new to teaching! How fitting that she just happens to be teaching FIRST grade in her FIRST year! She was born in Mexico on September 3, 1993. Maestra Valdez enjoys reading the The Giving Tree and Esperanza Rising and books by the author Jodi Picoult. She likes watching Hallmark movies and listening to all types of music. Some of her favorites include the color yellow, sunflowers, Fall and baseball! Maestra Valdez's favorite food is pasta, her favorite drink is water and she loves anything chocolate! You might see her enjoying a meal at BJ's Restaurant, but she won't be having a steak because she is not a fan of red meat! You might spot her finishing up a Target shopping trip before she heads home to paint and upcycle an old piece of furniture. Or who knows, she might be headed home to practice playing the guitar. We wonder if she has picked up any songs from her trips to Mexico or Virginia!
OUR SECOND GRADE SCENE
 Señora Castro- 2nd Grade TWBI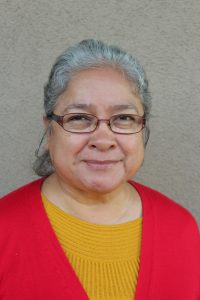 Señora Castro is a veteran teacher with 28 years of experience! She was born in the state capital of Tepic, Nayarit in México on the 4th of July! She has traveled to Venezuela, México and South Carolina. She enjoys works by author Elias Limones, her favorite book is the Bible and she likes Christian instrumental music. Did you know that Senora Castro's talent is singing? She also plays the keyboard. She likes movies based on true stories and comedies-as long as they're clean! She doesn't have just one favorite color, but likes purple, pink, green and yellow. Her favorite flower is the calla lily and her favorite season is Spring. Señora Castro enjoys seafood, dark chocolate, and fruit! Her favorite drinks are water and diet decaf soda. When she needs to relax she picks up a good book. You might spot her at Jo-Ann, Michaels, Dollar Tree or WalMart- perhaps she's picking up materials for her next sewing project! After all that shopping, she might grab a bite to eat at Black Bear Diner. Señora Castro Fun Facts: She collects dolls from different countries, she has three grown children-a girl and two boys, she has dogs and fish for pets. Señora Castro loves her job and her students! (She also loves mechanical pencils and dry erase markers too!)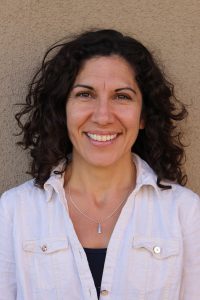 Señora de la Torre-2nd Grade TWBI
Señora de la Torre has 18 years of teaching under belt! She was born in Bakersfield, CA on April 28th. She enjoys a good Italian meal (possibly from Café Italia) followed by a  nice piece of tiramisu. She also enjoys a good dish from Thai Receipes. When she needs comfort food she makes a peanut butter and jelly sandwich.   Snickers or Reese's Peanut Butter Cups definitely satisfy when she needs something sweet and a glass of raspberry lemonade or water can always quench her thirst. She might need extra water if she is parched from her newest hobby, running. After November she will have run both a half and full marathon. She is "really enjoying this new adventure." She slows it down a bit when she needs to relax by walking her dog, Peanut, or watching a movie like As Good As It Gets. Señora de la Torre is a mom of two girls, Isabella is 10 and Liliana is 6. She has traveled to Mexico, Spain, London, U.S. Virgin Islands, Arizona and Washington D.C. She loved Washington D.C. and can't wait to go back! She likes the Spring and Autumn, tulips and the color red. Her favorite book is Echo and her favorite author is Pam Muñoz Ryan, naturally! Señora de la Torre encourages parents and guardians to support the MME PTA!
 Mrs. Dixon- Traditional 2nd Grade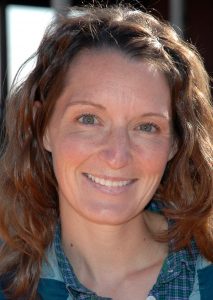 This is Mrs. Dixon's first year teaching her own class and we are lucky to have her at MME! Mrs. Dixon was born on October 28th in Idaho. She loves spending time with her family, playing games and watching movies. She has two daughters, Maggie (11) and Lainey (8) and a dog named Duke. You might catch Mrs. Dixon reading the Harry Potter series or books by Laura Numeroff, watching Pitch Perfect or SuperHero movies or listening to music by Phillip Phillips or other singer songwriters. She likes the Fall, soccer, hydrangea flowers and orange is her favorite color! Mrs. Dixon loves pizza, chocolate, diet coke and her favorite candy is Tootsie Rolls. She enjoys dining at Kathmandu Kitchen and shopping at Target. Mrs. Dixon is good when it comes to  art and can play both the piano and guitar! Not only is she talented, but well traveled too! She has been to Mexico, Iceland, Europe, Canada and several places in the U.S. Mrs. Dixon hopes that the parents of her students spend time reading with their kids!
THE THIRD GRADE TRIO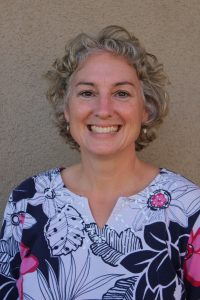 Mrs. Disney- Traditional  3rd Grade
Mrs. Disney's face may be new to some of us, but to others it's not! That's because she has taught at Montgomery before! Back in 2001-2004 when Montgomery was new, she was a classroom teacher. Then, from 2010-2013 she was a math specialist. Now she's back in 2016 as our traditional third grade teacher! She has been teaching for 30 years and says third grade is her favorite grade to teach! Mrs. Disney was born on December 17 in Michigan. She enjoys books by Betsy Byars and Mildred Taylor. Her favorite children's books are Because of Winn Dixie and Shiloh. Her favorite type of music is Folk and she is musically inclined- she can play the piano, guitar, recorder and folk harp! Her favorite movies are Out of Africa and The English Patient. She enjoys Autumn, iris flowers, sparkle pens and anti- bacterial wipes! Mrs. Disney likes reading, knitting, gardening, swimming, and hiking. Her favorite store is The Avid Reader and her favorite restaurant is Guadalajara. Her favorite foods are salad, lasagna, berry pie, dark chocolate covered almonds and lemonade! Mrs. Disney is also a mom to two boys and a dog named Tia!
Ms. Muñoz- 3rd Grade TWBI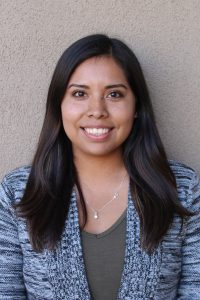 This is Ms. Muñoz's second year teaching 3rd grade at MME. Adding to our holiday- born teachers (Dias & Castro), she was born on New Year's Eve in 1991 in Los Angeles, CA. She has traveled to Spain and Mexico. She enjoys hiking and reading and relaxes by picking up a brush and painting. Wonder if she uses lots of green in her paintings since it's her favorite color. Maybe she's painted some of her other favorites too, like sunflowers, geckos, Springtime or her dog! Ms. Muñoz likes enchiladas, burritos, chocolate cake, life-saver gummies and coffee. Don't forget the coffee! She also enjoys reading The Giving Tree, watching Instructions Not Included, listening to Rock en Español and shopping at Target. She also collects Day of the Dead Calaveras. Ms. Muñoz is grateful to parents for helping with Círculo and field trips!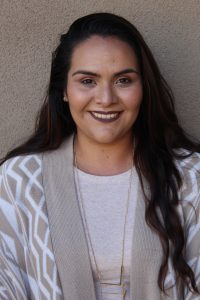 Maestra Torres- 3rd Grade TWBI
Maestra Torres has spent the last three years of her four-year teaching career at Montgomery. She was born close to Davis, in neighboring Woodland, on February 18th. She has been to Jalisco and Michoacán, México to visit family and relax. Who would have thought her favorite book and movie were the same as her teaching partner Ms Muñoz- The Giving Tree and Instructions Not Included! Maestra Torres likes reading works by Francisco X. Alarceón, listening to "a little bit of everything" from her Spotify account, and spending time with her family and Chico, her pitbull baby. You might run into Maestra Torres at Target or Michael's buying post-its or Sharpies, or dining at Sophia's Thai Kitchen or El Charro. If you ever want to bring her lunch, she loves tacos! (But please keep your beef stew at home, thank you.) Want to bring her other treats? She likes cheesecake, fruit tart, Starbursts, and a good Jelly Belly. Don't forget a drink to go with all that- passion tea lemonade is her favorite! She enjoys the Fall, peonies, tropical fish, and the color teal. Have you seen her classroom?! It's incredible. You should take a look!
THE FABULOUS FOURTH GRADE
Mrs. Fogliasso- Traditional 4th Grade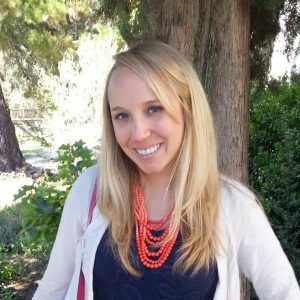 Mrs. Fogliasso? Who is that?! Our awesome Traditional 4th Grade teacher doesn't go by her last name on campus, but instead everyone calls her by her first name, Ms. Noelle!  Ms. Noelle has been a teacher for 11 years which means she's had lots of experience writing lesson plans with her favorite school supply, the Ticonderoga #2 pencil (aka the best pencil in the universe). Some of her favorites include the book Pride and Prejudice by Jane Austen, the Harry Potter movies and The San Francisco Giants baseball team.  Ms. Noelle also enjoys country music, tulips, peonies, the fall season and the color teal. Although her favorite restaurant is Mikuni, she is not a fan of wasabi (or horseradish)! She likes falafels, carrot cake, dark chocolate peanut butter cups and lattes.  Sadly, she is allergic to a few furry friends including cats, bunnies and hamsters.  She loves a good trip to Anthropology or book store.  She even collects books and reads to relax.  Ms. Noelle has traveled to far off places such as Italy, France, Germany, Mexico, the Caribbean, French Polynesia and Hawaii! She might have to hang up those traveling shoes for a while once March rolls around though because she will be busy caring for her new bundle of joy! Little Elizabeth, Ms. Noelle's first baby, will be here before she knows it! We know Ms. Noelle will do a wonderful job reading to baby Elizabeth because she believes it is important for families to have their own reading routine at home!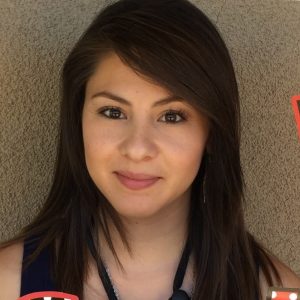 Maestra Gallegos- 4th Grade Spanish Immersion
Maestra Gallegos is our 4th Grade Spanish Immersion teacher. She has been at Montgomery for 5 out of her 6 years teaching! She was born in Los Angeles on March 13th.  Maestra Gallegos enjoys the Pinkalicious books, colored pens, post-its, lilies and the color red. She also likes watching comedies and listening to all types of music including classical, hip hop and Latin. Her favorite seasons are Spring and Summer and her favorite holidays are Thanksgiving and Christmas. Chicken, hamburgers, anything with nuts, Oreo milkshakes, white chocolate kit kats and lemonade are on the top of her favored foods list. However, anything with fillings, such as pies, are on the top of her least liked foods list. Maestra Gallegos likes eating at In-N-Out and El Pollo Loco and enjoys shopping on Amazon and at Target. One of her favorite hobbies is traveling and collecting currency from different places.  She has traveled to many destinations including Thailand, Italy (Rome, Pisa, Florence), Salzburg, Austria, Sydney, Austrailia, Cancun, New York, Denver, Washington D.C. , Hawaii and many places in California.  Besides traveling, she finds relaxation in going to the movies, hiking and going to basketball games. Her favorite sports team is the Sacramento Kings. In addition to basketball, she also likes gymnastics. Maestra Gallegos has been married for 13 years and lives with her husband and her two Boxer dogs!
 FANTASTIC FIFTH GRADE 
Ms. Dailey-Traditional 5th Grade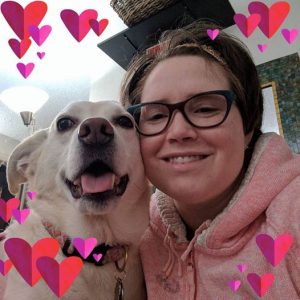 Ms. Dailey, aka Mary Loves To Read Dailey, started her teaching career here at Montgomery last year and currently teaches Traditional 5th grade. She was born on April 29th in San Luis Obispo, CA. Ms. Dailey truly loves reading and always has a "next up" book on her reading list. One of her favorite books is The Night Gardener by her current favorite author Jonathan Auxier. She loves watching British mysteries like Agatha Christie and listening to Blues, Jazz and Dance music. Some of her favorites include the polar bear, Hollyhocks flowers and the Winter season. Her favorite soccer team is the Sacramento Republic FC and her favorite hockey team is the San Jose Sharks. Favorite foods and drinks of Ms. Dailey include sushi, baklava, dark chocolate, toffee, lavender bubble tea and coffee. Her favorite restaurant is Passion Fish located in Pacific Grove, CA. Her least favorite foods are ham and eggs. Ms. Dailey has some very unique allergies including eggplant and agave. Making paper flowers and reading are Ms. Dailey's favorite hobbies. Her favorite stores are stationary shops such as Paper Source and Rifle Paper Company. She relaxes by watching mysteries or walking her dog Sofia Loren. In addition to Sofia Loren, Ms. Dailey has two cats named William Powell and Mr. Shaddow! Her best talents are making art or doing silly dances and singing. She is quite the world traveler and has been to Spain, Germany, Slovakia, Hungary, Austria, Czech Republic and Portugal. She has even taken a train across the USA and has been to the East Coast several times in order to visit her husband's family. Ms. Dailey loves being at MME, appreciates all the PTA does and is hoping parents will help her with the class art project for the annual auction and possibly help start a chess club at MME.
Senora Ramirez- 5th Grade Spanish Immersion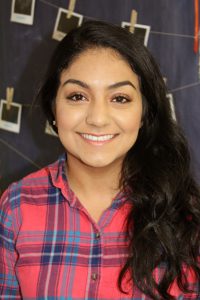 This is Senora Ramirez's first year at MME and her first year teaching! She was born in Salinas, CA on November 18, 1988. Senora Ramirez is a fan of JK Rowling and the Harry Potter books, the movie Up and Country music. Her favorite animals are dogs, favorite flowers are baby gerbera daisies, her favorite season is Summer and her favorite school supply is a fine tipped Sharpie. Senora Ramirez enjoys pizza, tacos, macadamia nut cookies, chocolate and Starbuck's coffee. You might find her shopping at her favorite store, Nordstrom's, dining at Cielito Lindo Mexican Restaurant in Sacramento or practicing her favorite hobby-running! She also enjoys reading, hiking and believe it or not, cleaning! We bet her Spanish speaking skills came in very handy on her last trips to Mexico and Brazil!
SUPER 5th/6th COMBOS
Ms. Spence-Traditional 5th/6th Combo
Ms. Spence has been teaching for three years. This year she is teaching a 5/6 combo class! She was born on April 30th in Salt Lake City, Utah.   Her favorite color is forest green, favorite season is Fall and her favorite flowers are the rose and hibiscus. Ms. Spence doesn't have a favorite author, but loves the book The Book Thief by Markus Zusak. Some of her favorite movies include Pitch Perfect, Bridesmaids and The Lion King. She enjoys many types of music including Alternative, Acoustic and some Pop. Ms. Spence's favorite sports team is a college football team from her native state of Utah-Utah Utes. She enjoys sweet things like ice cream or frozen yogurt for dessert and treats like gummy bears, Starbursts and peanut butter M&Ms. She enjoys a good cup of coffee, sparkling water and after a long day of school, a margarita or glass of wine! One thing Ms. Spence does not care for is pickles. Some of her favorite hobbies include hiking, playing the cello, weight lifting and reading. She likes shopping at Target and Kohl's and eating out at Paesanos, Tres Hermanas, Noodles & Company and Preserve. Her talents not only include playing the cello, but writing poetry and prose as well. Wonder if she uses her favorite Papermate Flair pens when she writes. When it's time to relax, Ms. Spence lies in bed, practices yoga or snuggles her very cute and very spoiled dog, Sammie! Ms. Spence is an easy going, flexible, adaptable person who is eager for parents to help with the class garden, drive on field trips and help with art projects.
Señora Rojo- 5th/6th Spanish Immersion Combo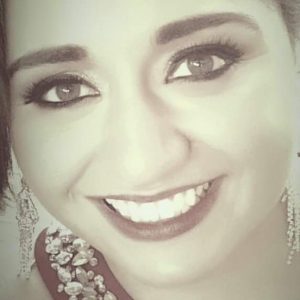 Like Ms. Spence, Señora Rojo teaches a 5/6 combo class. (These ladies have their work cut out for them!) She has been teaching for 4 years. Señora Rojo was born in Michoacan, Mexico on May 16, 1990. Her favorite book is a memoir called Thirteen Senses by Victor Villaseñor, who also happens to be her favorite author. Her favorite movie is Avatar and her favorite types of music include Hip Hop, Oldies and Rap. She even listens to Rap to relax! Some other Señora Rojo favorites are the colors orange, pink, red, the Oakland A's baseball team and the Fall season. A perfect meal might include lasagna (possibly from Olive Garden) followed by a nice piece of tuxedo cake. Her favorite candy is Lindor Milk Chocolate Truffles and her favorite drink is fruit infused water. She doesn't have any food allergies, but she is not a fan of seafood. Señora Rojo likes finding treasures and bargains at Goodwill, beading and writing poetry. Maybe she uses (or borrows from Ms. Spence) her favorite Papermate Flair pens to write poetry about her travels to Europe, Belize, Guatemala, Mexico, Canada or Oregon! We bet she has picked up postcards from those places since she collects postcards! Did you know that Señora Rojo has a 2 ½ year old daughter and that her husband, Mr. Rojo, used to work at Montgomery too?!
Mr. Ayon- Traditional 6th Grade
Mr. Ayon has been teaching for 16 years! This is his first year at MME and we are so excited to have him! He was born on July 13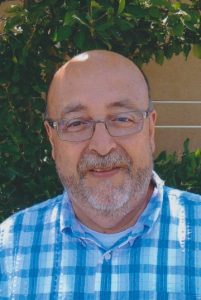 th in Hollister, CA. His favorite author is Kathryn Lasky, but his favorite book is The Giver by Lois Lowry. Mr. Ayon enjoys any Mel Brooks movie, Latin Jazz and the San Francisco 49ers. His favorite color is purple, favorite flowers are tulips and favorite season is Fall. Be sure to invite him over if you're cooking Mexican or BBQ or making a batch of raspberry iced tea! Pumpkin pie is his favorite dessert and his favorite candy is Snickers. Pete's Restaurant and Brewhouse in Woodland is his favorite place to eat out. Mr. Ayon relaxes by spending time with friends and family. Did you know that he has 3 dogs and is also a grandfather of two young grandsons?! He doesn't collect anything because he says his wife won't let him, but we bet he has a lot of wood pieces and tools lying around since his favorite hobby is woodturning. Don't know what woodturning is? Look it up, it's really cool and takes a great deal of talent!