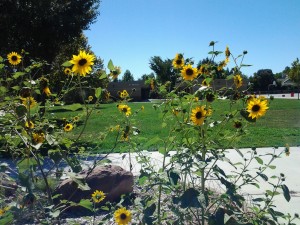 Campus Beautification
MME has one of the most beautiful campuses in the district – thanks to MME family efforts. To keep it looking great, we need parent & student volunteers to pull a weed, spread some mulch, make a friend and grow a community.
Gardening & Beautification Days and Activities will be scheduled throughout the school year, including:
Saturday, September 26th, 2015: cleaning the tiles for the tables, working on compost, and repairing the the wood around the garden beds.  Plus  there is always weeding.
Sunday, October 18th, 2015: weeding, mulching, amending the garden beds and creating a compost area with a new bin. Both the edible garden and the CA Native Garden also need our help!
Sunday, February 14th, 2016 & Saturday, February 27th, 2016: assist Teacher Judy Leatherman pot up plants from our California Native Garden which be relocated.  Next fall, the plants we have saved will be the start of a new and bigger native / drought tolerant garden in beautiful location in front of the Mustang Wall Mural!  We need to get all of our natives out of the ground while the weather is right. Everybody is welcome!
Come out and support MME's gardening & campus beautification program. Bring water, sunscreen, a hat, sturdy shoes, and your favorite gardening gloves if you'd like.  We have the tools and snacks are usually provided.  Make it a family activity – kids are welcome to come and help out too!
If you have any questions, please contact our Campus Beautification Committee Chair Bekah Tsai at bekahtsai@gmail.com.
---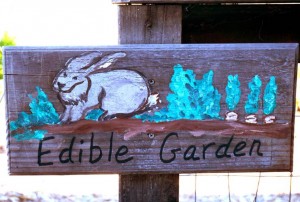 The Garden
The Garden is a very special place on campus and MME is so lucky to have our one-and-only Judy Leatherman leading the charge!  On a weekly basis, we teach kids how to weed, water, plant and harvest. Special lessons include composting, nutrition, insects, pollination, science, art-in-the-garden, and even cooking!
One great way to volunteer is to work with your child's class in the garden. There are many things you can do to help!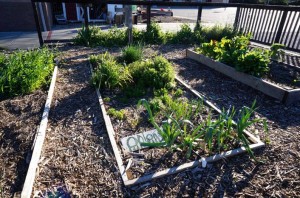 A lot of the work is hands-on in the garden, working along side the kids in the fresh air. This is a wonderful way to participate in your child's class!
We'd especially love to have parents from different countries and ethnic backgrounds to share making healthy foods from their countries, especially the vegetables we harvest from the garden. We have a cooking cart to help you prepare simple recipes in class with the children – materials for lessons are available.
Even if you can only help once in a while, we have special projects like maintenance (weeding & mulching), repairs (like fences or drip irrigation), helping with the Spring Plant Sale, making rosemary or evergreen wreathes to sell for the December holidays, designing & building birdhouses or bee houses (especially with the upper grades), and art in the garden with the kids.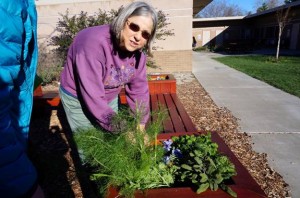 Come and learn all about our program, share the joy of gardening with your child & see how you can help.  It's fun and great exercise!  You can sign up with your teacher any time!  If you have any questions, please contact our Garden Coordinator Judy Leatherman at jleatherwoman@gmail.com.