Bike Safety Rodeo
Wednesday, October 12, 2016 @ 1:30 pm 
Walk/Bike-to-School PTA Committee, in collaboration with the community-based Davis Bicycles School Committee and the City of Davis Street Smart Program, is hosting our annual Bike Safety Rodeo at the back bike rack (on the blacktop near the MPR/lunch tables). Parents must complete and sign the attached Consent Form for their kids to participate, and turn it into the office or bring it to the event. Your child should have a signed consent form, helmet, and bike (in good working order) to participate. The Bike Safety Rodeo is designed for children who have the basic skills of riding a bike (e.g. knowing, at a minimum, how to stop and start properly and how to take one hand off the handle bars to signal). PARENT VOLUNTEERS NEEDED:  It takes a minimum of 12 volunteers to pull off this event.  If you are able to help out starting at 1:00pm, please email/text the Bike/Walk-to-School Committee Chair Michael Hansen at akasas.hansen@gmail.com or 734-846-2556.
2 adults for check-in/check-out station
3 adult helmet checkers
2 adult bike checkers
1 adult supervising the scan, signal and merge station
1 adult supervising the Figure 8 navigating station
1 adult supervising the stop, signal and turn station
1 adult supervising the traffic signs/rules of the road station
1 adult supervising the Mini SLOW race


---
International Walk/Bike-to-School Day is a global event in which school children in Davis will be joining kids from more than 40 countries around the world celebrating the benefits of walking and biking to school. Parents, students, teachers, and staff are invited to walk, bike or scoot to school on Wednesday, October 5th, 2016 and Wednesday, May 10th, 2017 and check in at the bike racks for stickers, to sign our school poster, and for other goodies to celebrate your good work for yourself, our community, and our environment!
---
Safe Routes to School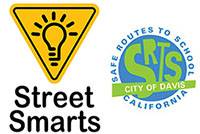 Walking and biking to school is healthy for our kids and healthy for our environment.  We encourage all students to walk, bike, or scooter to school whenever possible.  You can identify the best route for your student to walk or bike to school by checking out a copy of the MME Suggested Routes to School map, which can be found in the school office, posted behind the school near the bike racks, or online in English or Spanish. Our own MME Parent, Rachel Hartsough, is the coordinator for the Street Smarts Program for the City of Davis; more information can be found at http://street-smarts.cityofdavis.org/saferoutes. Stay tuned for more walk/bike to school information and activities that will be happening throughout the school year, including:
---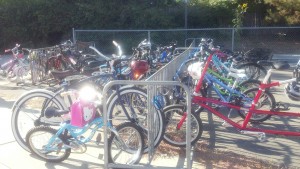 Active4.me Scanning Program MME is an active participant in the Active4.me Scanning Program, which is run under Safe Routes to School through the City of Davis Streets Smarts Program.  Active4.me uses bar code scanning technology to log students' walking, bicycling, and scooting to and from school. GOOD FOR STUDENT HEALTH, GOOD FOR THE ENVIRONMENT:
Parents can receive a notification via phone, text, or email when their students arrive at school.
Students can track miles traveled, calories spent, money saved and carbon reduction.
Schools can follow their collective efforts to promote student health and reduce their carbon footprint.
Teachers can use real-time data for fun classroom activities.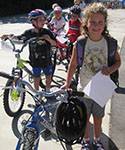 Parent permission is required for students to sign up for Active4.me! You will find a permission slip at https://montgomery.active4.me/, which must be printed & signed in order to receive a student barcode tag.  Active4.me will be next to the bike racks in the morning 8:00-8:30 AM starting in September to receive permission forms and issue bar code tags. We start logging miles the same day we get your permission form! PARENTS – WE NEED YOU!!  Our goal is to scan in students at all 3 MME entrances – front bike racks, back bike racks, & CCD/Lillard. If you can volunteer, please pick a day (or more) a week and a location on the MME Bike/Walk Scan Sign-Up Sheet – and if possible, sign up for the same assignment each week through December on the website. After signing up, go to the appropriate App Store (Apple or Google Play) on your phone and download the free active4.me scanner app, and you are good to go.  Thank you and hope to see out there.  And, don't worry, we'll train you–it's easy! If you need help signing up or downloading the app, or have other questions about the Bike/Walk-to-School program, please contact Michael Hansen at akasas.hansen@gmail.com or 734-846-2556.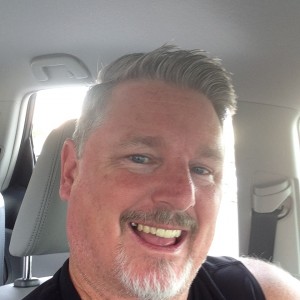 ---
SAFETY REMINDER FOR PARENTS: Helmets are REQUIRED BY LAW on all youth under the age of 18 who ride a bike, scoot, skateboard, or skate. Please make sure that your child has a properly fitted helmet, and knows how to travel safely. Helpful resource guides in English and Spanish can be found on the City of Davis's Street Smarts website at: street-smarts.cityofdavis.org/resources.