School Spirit Fridays
Red, Black & White, Mustangs Unite!
MME students and staff are encouraged to show their school spirit on Fridays by wearing our school colors of read, black  and/or white! This is the perfect day t sport your Mustang Apparel!  If you are interested in purchasing new Mustang gear, please see items and prices below or contact our Merchandise Committee Chair, Sybil Hansen, at sybilsways@yahoo.com or 916-212-9454.
Yearbook
This limited-edition book provides a time capsule that celebrates a year full of friends, events, student life, and shared experiences.  Yearbooks are a great way to record, highlight, and commemorate the school year.  Many students love to participate in creating this special book, and all students benefit from the preservation of these precious memories for all time.
(New Yearbook Sale Info Coming!)
MME Merchandise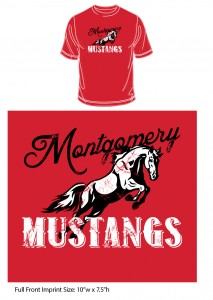 Show your MME spirit and support the PTA by purchasing MME Merchandise. It's a WIN-WIN – show your school spirit and raise funds for MME!!
T-Shirts are red polyester with the Montgomery Mustangs Logo in black and white.  The athletic material allows for moisture management and has colorfast technology so they won't fade!  They are $13 each & come in the following sizes:
               Youth: S, M, L       Adult:  M, L
                    Women's V-neck: M, L, XL
If you are interested in last year's cotton T-shirts we still have a few left for $10!
Sweatshirts are heather grey hoodies with the Montgomery Mustangs Logo in black and white above the front pocket.  They are $25 each, and come in sizes Youth M & L and Adult S, M, L, XL, XXL.  The Sweatshirts will only be available by pre-order.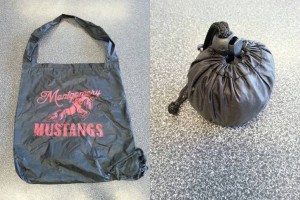 MME-branded Reusable Bags are 1-for-$6 or 2-for-$10. With the plastic bag ban in effect in Davis, these little stuff sacks are a great way to keep a grocery bag handy and show your school spirit!
If you have any questions, please contact our MME Merchandise Committee Chair Sybil Hansen at sybilsways@yahoo.com  or 916-212-9454.