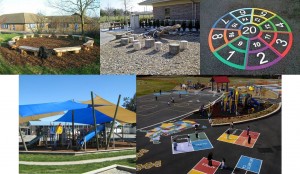 At the Annual Dinner & Auction in February 2014, the MME Community generously supported the Fund-a-Need for Outdoor Learning & Playground Enhancements. The broad idea is to optimize the school's outdoor real estate by enhancing the current school campus; creating safe, comfortable, and fun outdoor learning spaces that extend the reach of the classrooms with flexible outdoor learning tools & improvements to the existing playground, equipment, garden, and schoolyard.
This Fund-a-Need puts money and support behind a number of years of efforts by parents, the garden program, and dedicated community volunteers who have already been working toward this goal. It provides us with the opportunity to put into place some grand ideas that will expand available space for teaching and enhance the learning environment at MME.
Please stay tuned for details on the implementation of these funds – including big-ticket items that took years to get designed, approved & installed.