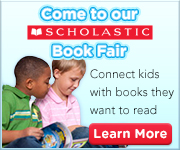 MME holds two book fairs each school year during Parent/Teacher Conference weeks.  The Scholastic Book Fair is a wonderful way to raise money for the school library and reading department while encouraging a love of reading in our students.  The students look forward to seeing the library transformed into the book fair theme each time and usually can't wait to spend time at the fair during lunch and after school.  We hope you and your child will shop for friends and family – books make great Holiday & Birthday gifts – and you can support your child's classroom by purchasing a book hand-selected by their teacher to enhance their classroom library.
---
Spring Book Fair
March 20-24th 
Visit the Scholastic Book Fair! It will be a great experience for your children and you! 
The Scholastic Book Fair is Here!
Classroom libraries are a great source of enrichment and exploration. Please help us grow them by shopping at the book fair! Teacher wish list books are available for purchase at the in-person shopping times below. 
Don't have time to shop at the fair in person? No worries! Teachers also use their eWallets to buy books for their classrooms from the book fair. Below please find the links for the eWallets we have received so far.
Want to volunteer at the book fair? Please look at your schedules and  ! Please contact Stephanie Hockman at stephanie.hockman@gmail.com if you have any questions. Thank you!!!
Thank you for supporting MME!