(Para leer este sitio en otro idioma, por favor haga clic en "Read in Another Language", ubicado en parte inferior a la derecha de esta página y después seleccione "Translate")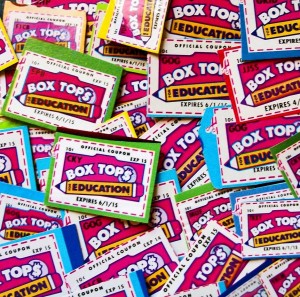 Box Tops for Education are an easy way to help our school raise money. Grab your scissors and keep an eye out for the Box Tops for Education logo on the products you use every day. For every Box Top your family & friends clip, our school will receive 10 cents. That may not sound like a lot, but it adds up quickly. Our school can receive up to $20,000 per school year from clipped Box Tops!!
Fall Deadline: Friday, October 14, 2016
                                         Winter Deadline: Friday, February 17, 2016
You can turn in Ziploc Bags or completed Collection Sheets – with the student's name & teacher – to your classroom, or drop them in their respective box in the office.  We will be awarding prizes to our top collectors!!
Hundreds of products participate in these programs, and you probably already have several of them in your pantry, freezer and fridge…Start Clipping & Saving Now!
---
How to Collect and Turn in Box Tops 
Keep an eye out for Box Tops & Labels for Education on product packaging. Cut out the Box Top or Label for Education (check the expiration date), and collect them in separate Ziploc Baggies with your child's name and teacher on them.  You can turn the baggie in to your student's teacher, or drop them in the box in the office. Every 10 Box Tops or Labels for Education submitted will equal one entry in the raffle where cool prizes will be raffled off to the students.
Blank copies of the Collection Sheets are usually available in the office.  Please TAPE them to the paper…DO NOT STAPLE…and be sure to write the name of the student and their teacher.
---
We had a successful 2014-2015 School Year earning over $750!  With great overall participation, the following students were recognized during our Fall & Spring Drives: Anna Coleman, Sophia Leamy, Zane Bertero, Alek Egle, Sirkka Egle, Nate Fechner, Katelyn Seacrest, Wyatt Hustad, Jackie Rivera, Roman DeWeese, Katie Wydick, Howie Smith, Raul Galviz, and Jazmin Garcia.  We also saw excellent participation from the classrooms of Sra. Moulton, Sra. Fonte, Sra. de la Torre, and Sra. Torres.
HUGE thanks to all of the participants!
---
Did you know that you can also earn box tops when shopping on line? You can sign up to receive emailed information, special offers, coupons, and sweepstake opportunities at www.boxtops4education.com. Just by registering, MME gets extra Box Tops.
---
If you have questions, please contact our Box Tops Committee Chair Stephenie Carlson at stephcarlson@gmail.com
Thank you for supporting MME!