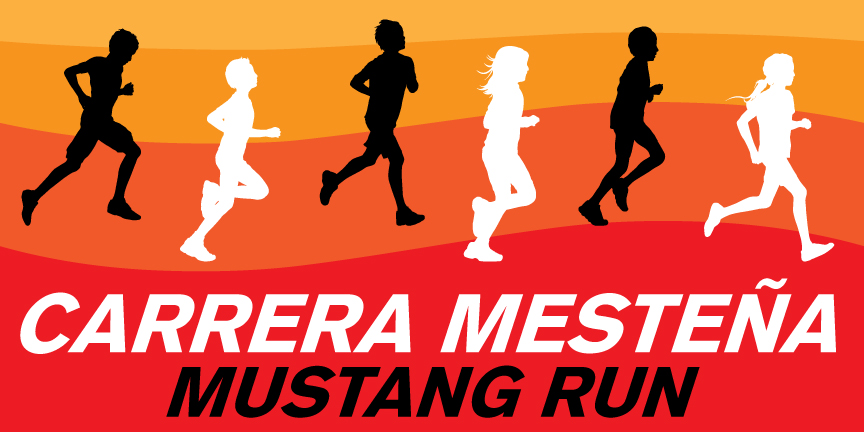 What is the Mustang Run?
The Mustang Run is our school's 2nd largest fundraiser. Kids raise money for our school by participating in a fun running event. Donations can be made per lap but are usually a flat amount.
We start with a Spirit week that ends on Friday morning with classes taking turns running. Parents and volunteers work to make the field fun and exciting with decorations, bubbles and music.
After the race kids get an otter pop and participation prize. There will also be a grand prize of Kona Ice for 3-5 classes.
How you can help?
We are looking for volunteers to help us with preparations before the event. Tasks like making decorations for spirit week and for the day of the run.  We are also looking to borrow things for the event such as tables, pop-up tents and bubble machines. Click here to sign up to help volunteer with event preparations.
We also need volunteers to help on October 6th the morning of the Mustang Run. We need help with setting up the track, marking laps, operating bubble blowers, cheering on kids, refilling water bottles and more. Volunteer positions are broken up by race and grade. If you are signing up for 5th grade please double check that you are volunteering for the correct teacher. Please leave a comment if you need any accommodations such as a chair. Click here to sign up to help volunteer the day of the Mustang Run.
While the Mustang Run is a fun community building event, it is also a fundraiser. This year we will be using 99Pledges to collect online donations. If you want to participate in online fundraising please return the orange permission slip to have your child added. Students will not be added to 99Pledges without parental consent. If you would like to donate by cash or check please include your child or teacher's name. Donations can only be accepted by the front office. Do not give donations to your teachers. Please make all checks payable to MME PTA.  Click here to donate online to the Mustang Run.
Frequently Asked Questions
Can I attend the Mustang Run even if I don't volunteer?
No. We have been told that it is against the law to loiter nearby a school when it is in session. While the school is making use of the Montgomery Soccer Field, which we have reserved, it is considered an extension of the school so loitering around the field is also prohibited.
We do have volunteer jobs on our sign-up sheets that include cheering for the kids. If you can't stay for the whole shift or need some other accommodation  just note it on the sign-up sheet. When you arrive that morning, you need to check in with the office before heading out to the field.
What if all the slots to volunteer in my student's class are filled?
Please let us know and we will add more slots. Please do not sign-up for the other grade that is running at the same time.
When is my child running?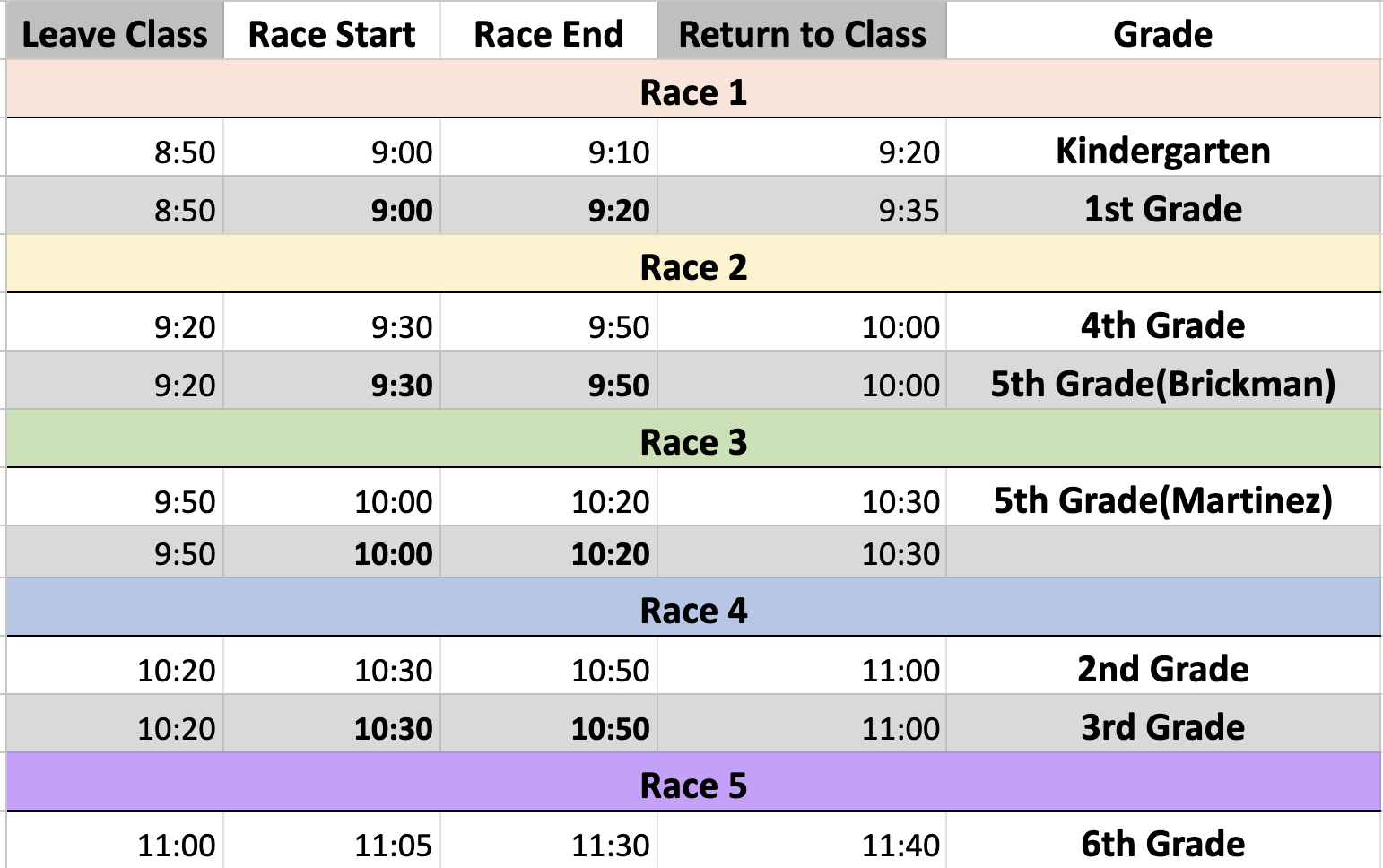 Why can't I find my child on the fundraising website?
If a student has not returned the orange permission slip or registered them on the site then the child's name will not show up. If you believe your child turned in the permission slip let us know or fill out another one in the office and put it in the box. If you do not want to opt into the website you are still able to make general donations to the school on the website or in person by dropping off a donation by cash or check.
Do I have to pay money for my child to participate?
No, the Mustang Run is a free school event. The only thing families need to do is send their kids to school with shoes and clothes that are comfortable to run around in.
What are the themes for Spirit Week?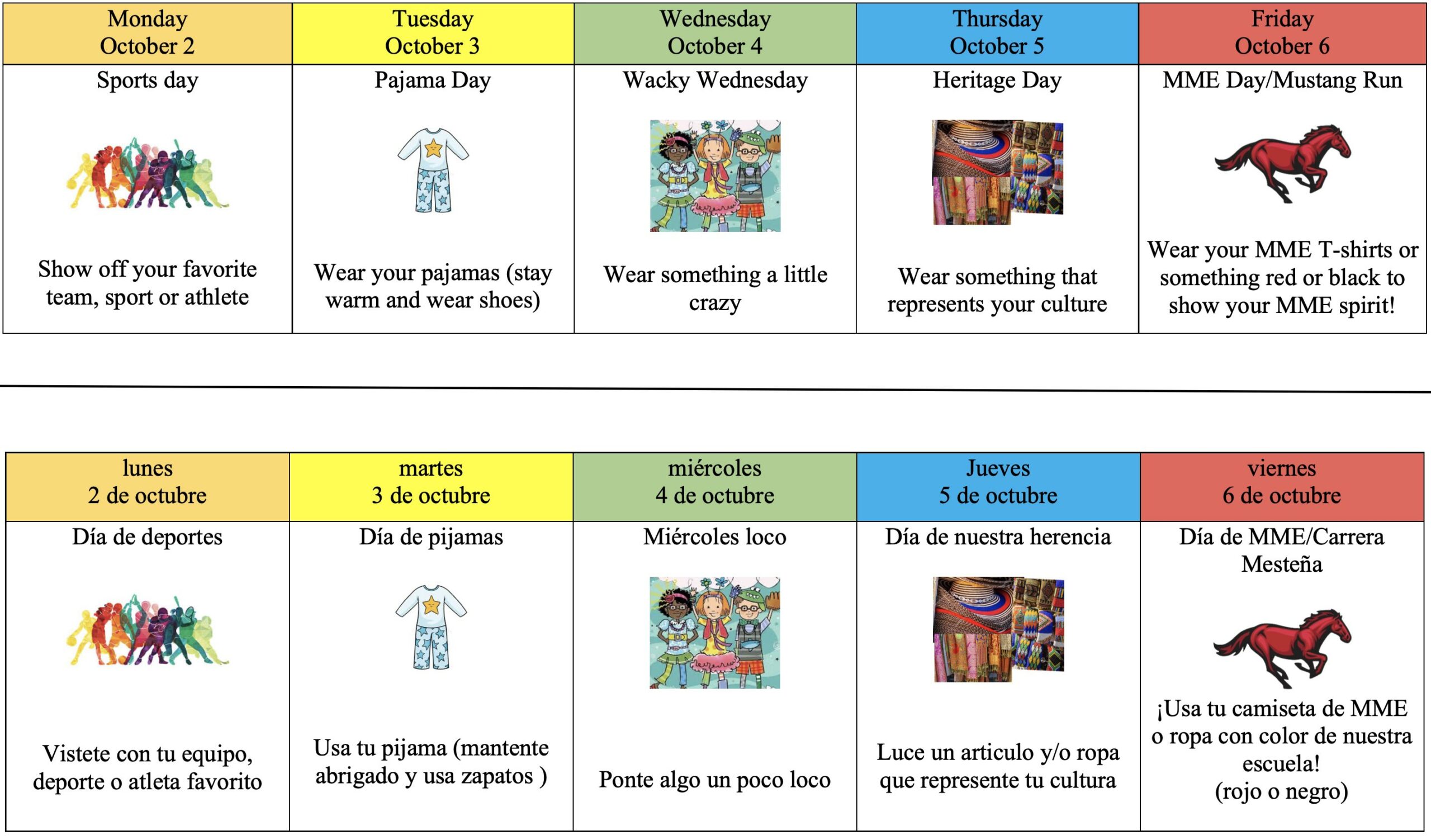 Documents
2023 99Pledges Permission Slip
This document originally came home on orange paper.  If you want us to add your child to the online fundraising platform fill this out and drop it off in the box in the office.
99 Pledges Donation Instructions -2023
This document has step by step instructions on how to donate in person or online. If we did not receive a permission slip to allow a student's name to be added to 99 Pledges, donors can still submit a general donation.
This document is a full page color flyer that explains what the money is raised for, how fun the event will be and contains the QR code that links to our fundraising website https://app.99pledges.com/fund/CM2023
If you have any additional questions please contact both Stephanie Hockman at stephanie.hockman@gmail.com and DeskathArine@gmail.com.